What "are" Gallery blocks™?

A "single" Gallery Block™ (pictured left) is a professional photographic print adhered to a solid wood structure through a custom process that produces a unique wall décor product. It is easy to maintain and easy to hang with no folded corners and perfectly manufactured 90° angles.
A "floating" Gallery Block™ features a collection of single blocks that appear to "float" over a designer backboard for a head-turning piece of 3-dimensional wall art.
What can I do with Gallery Blocks™?
Anything!
Gallery Blocks™ offer as much control and customization as you can handle.
A Walk in the Park

Working only in ROES, you can:

Create a stunning floating block arrangement of wrapping images. For the backboard you can use your own image, any one of the backgrounds provided, or the designer template provided in the system for that layout.
Create a dynamic single block or single set with wrapping images or your choice of Designer Edges.

Off the Beaten Path

With simple use of Photoshop® or other imaging program, you can download any of the provided templates, place your images, and upload the new images through ROES as you would normally.

The Trailblazer

For those who want it all, download the blank* template for your arrangement of choice. Shoot, create and design your way to a masterpiece.
*Blank templates for all arrangements will be added soon, but any graphic template can be used. Just use the template contents for placement reference.
Please Note:
Due to the nature of this product, remakes for subjective issues, changes and cancellations are not possible.
Features
If your creativity is limitless, so are the possibilities!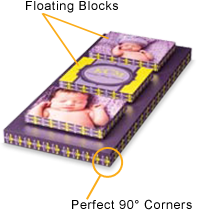 Fill floating blocks with anything from images to text.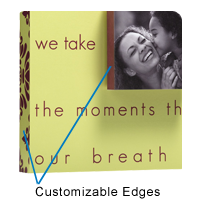 Customizable edges on all singles and arrangements allow you to have a classic wrap, complimenting colors or any decorative element you can imagine.